Wing Zing 2009 is now History!
The annual Budweiser Wing Zing Is in the history books. The event was held in the Lifesytels Community Pavillion on August 18th. The Wing Zing was held outdoors with live music and area restaurants serving chicken wings.
Again this year, The Wing King was a judge for this event!
---
Wing Zing 2009
This annual event was once again sponsored by WLVQ-QFM96 and Budweiser. Here you could sample wings from many of the players in Columbus at once. There was a stage with a lot of great music during the day.
As readers of this web site should know, the Buffalo Wing originated at the Anchor Bar in Buffalo. While I love the three Columbus giants, I go to these events to find the small neighborhood bars that serves an authentic style Buffalo wing.
For that reason, the Queen and I , have made a special award for the Best neighborhood bar wing at Wing Zing. The first winner of our award was
Nick and Sidney's Roadhouse Grill
In 2008 the award went to Rusty Bucket of Upper Arlington For 2009 we decided to give the award to Shade on the Canal from Canal Winchester
---
I believe this was Shade's 2nd time as a contestant at Wing Zing. It is now on our "must visit" list.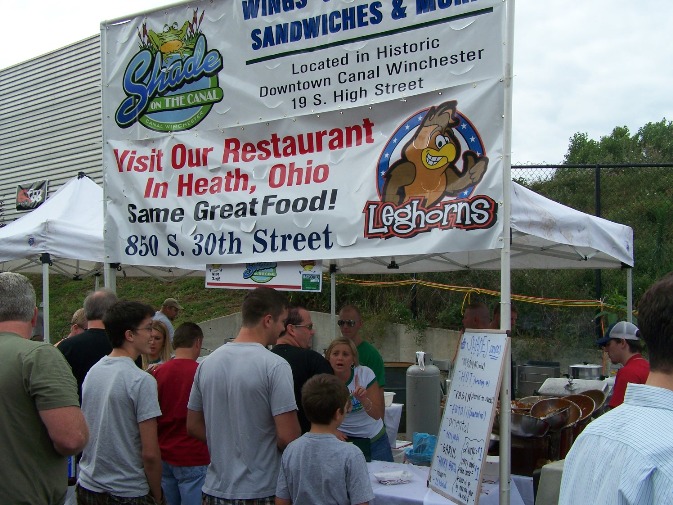 We will be visiting their Canal Winchester location soon. I mentioned this was their second time at the event. I think I know why I dismissed them last year. We started, as always by getting what the place describes as their hot wing. While this was a very good wing, great meat, cooked and sauced to perfection. But the first thing you notice is the taste of butter. The sauce tastes very good, but its more like a mild to medium heat. Maybe this year, I'm a litle older (just passed 50) and wiser, we went back later and sampled some hotter fare. Their "Ragin'" is more like it, tasted great with a nice heat that most Buffalo wing fans will recognize as being hot. The next step up is "fatalii" Its very hot, but tastes very good. If your a regular Buffalo wing eater, start with Ragin and work your way up.
---
The rest of the entrants for 2009
Buffalo Wild Wings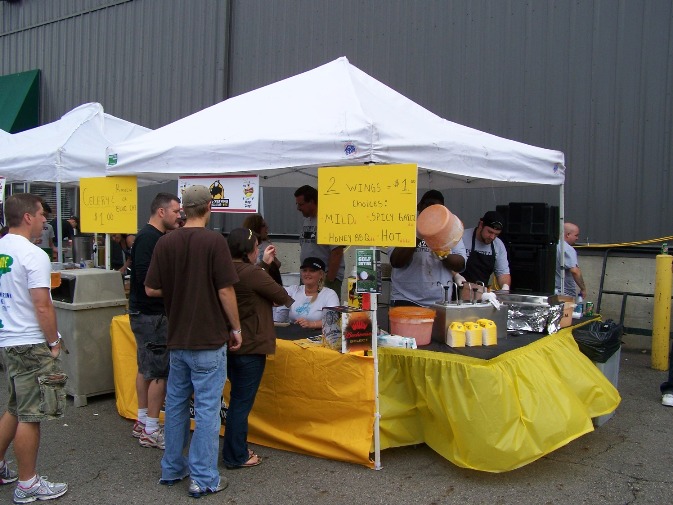 We did not get a single wing from "B-dubs" at the Wing Zing. This is no disrespect, I have eaten at every store in Central Ohio, and several others, and have tasted every sauce. Many of you have as well I'm sure. I will say Buffalo Wild Wings set the industry standard in many ways. I use their MILD MEDIUM and HOT to judge heat levels for everyone else. B-Dubs, in addition to their great tasting buffalo sauces have, in my opinion, the best Teriyake, but this day they brought their Spicy Garlic. This is a very tasty version of their medium sauce.
---
Rooster's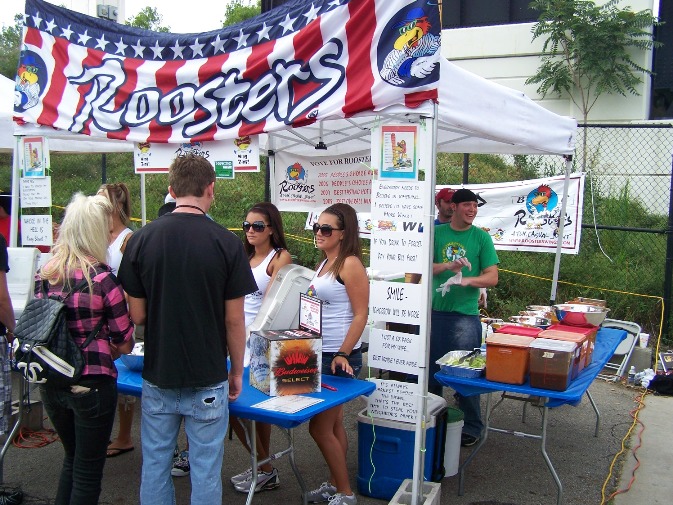 Like BWW, I didn't intend on stopping at Rooster's for wings. I regularly have wings at several of their locations. However, I wanted to stop and talk. I've settled on their "donkey" sauce as the heat level I like when I am there. During the official judging earlier in the week I recognized their wing and it was one of the later served in the judging as they save the hottest for last. I knew it was their wing, but I've never eaten any of thier hottest ones. One of my fellow judges said it was their "killer" but not their "super killer". During the judging we are not told what we are eating. I stopped to talk to one of the Rooster's Corporate people and I learned what we sampled was their "Super Killer Chipotle. This brings up two interesting points. Few people realize at Rooster's they will combine sauces for you and you can come up with some great choices. One of my personal favorites is "hot garlic". They let me try one of their "Chipotle" wings. EXCELLENT. I love Rooster's radio commercials as well. I'm told they may start a new marketing campaign to let people know about trying combo flavors.
---
Pete's Place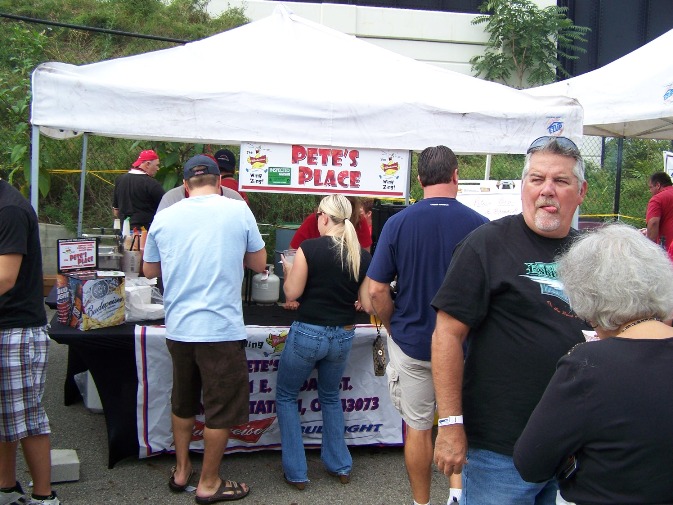 In Summit Station east of 270 on Broad St. in Summit Station. They didn't get a good review last year because the wing was somewhat ordinary. What I have learned after judging and attending quite a few Wing Zing events is that it can be difficult to prepare a good wing at serve it at Wing Zing. The smaller places that I love can't always afford to put the money into a portable kitchen setup. The Wing that Pete's served this year was a Bourbon X-hot. I'm not sure about the X-hot, but it tastes great. I'm not sure if they serve a more traditional Buffalo style wing, but we need to make another trip out east. Note:My apologies to the gentleman I caught licking his lips, but it was appropriate for the event.
---
Jimmy's Pizza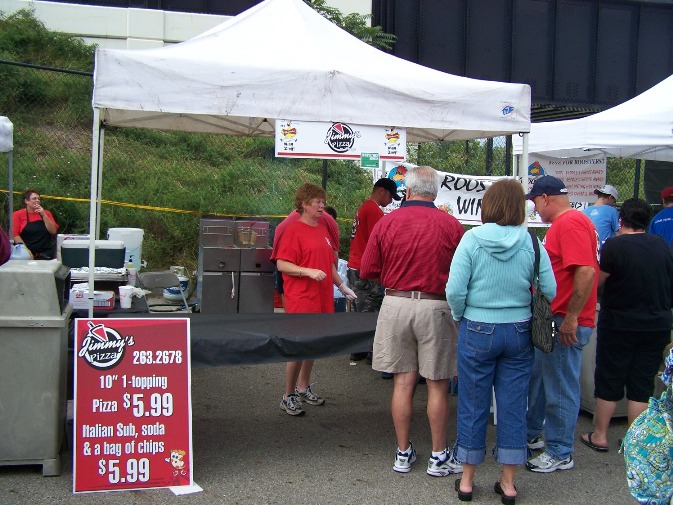 This one was of special interest to me. Its located at 1484 Oakland Park Ave, it is close to my home. What I sampled as a good tasting wing that can be called a traditional Buffalo wing. The sauce was slightly different, I couldn't figure out what it was, but it was good. I rarely find pizza shop wings I like because they usually bake them. Theirs are indeed deep fried. After talking to the people there, I can't wait to try not only their wings, but their pizza. While I'm no pizza expert, Columbus' north end is blessed with many good pizzas. Our visit here is coming soon.
---
Beef O'brady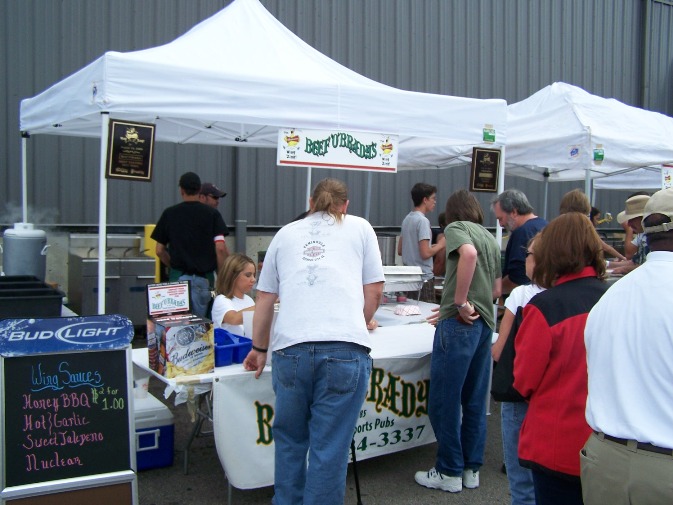 Decent Buffalo wing, I've been to the Pickerington Store, they also have a Hilliard one.
---
Alumni Grill (Gahanna)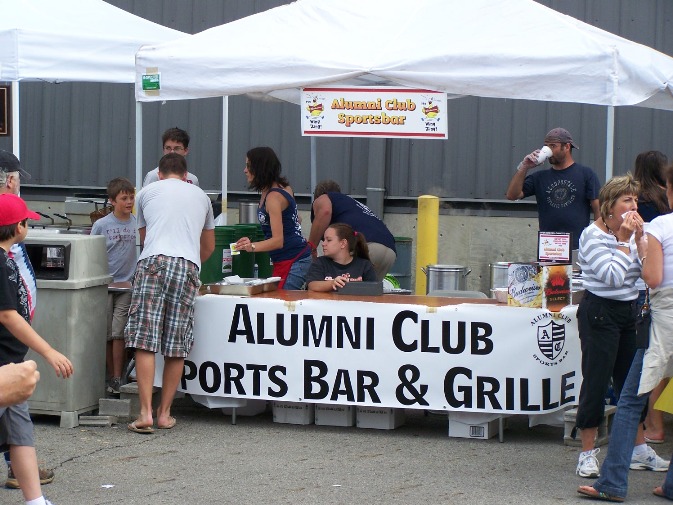 This was one of the worst wings of the day, the sauce was pasty, not sure how else to describe it. I'm betting the one they serve in their establishment is better.
---
Gatby's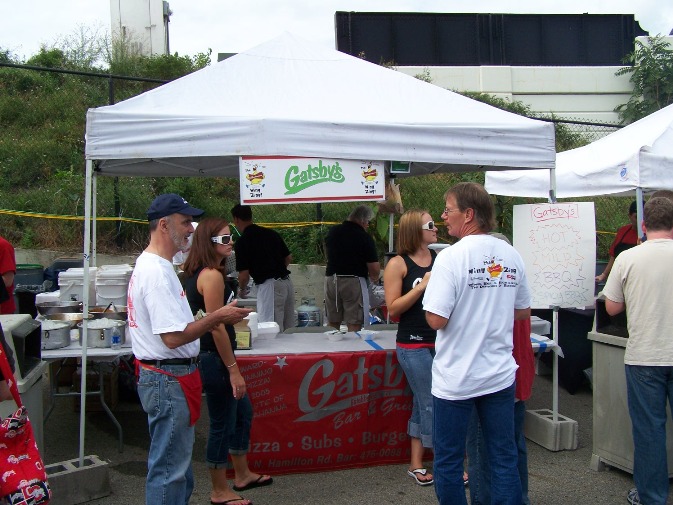 I remember Gatsby's being one of the best wings at previous Wing Zing events. I also remember the Queen and I taking a trip out there and enjoying a great plate of wings. Gatsby's did themselves no favors on this Saturday. The wing was luke warm and the sauce was cold. I would have to say they were under prepared, and given their experience there is no excuse for that. They had small propane turkey friers and were trying to keep the wings warm in crock pots. People who have never been to Gatsby's and tried their wing here for the first wimg would probably never make the trip to Gahanna.
---
Mud Flats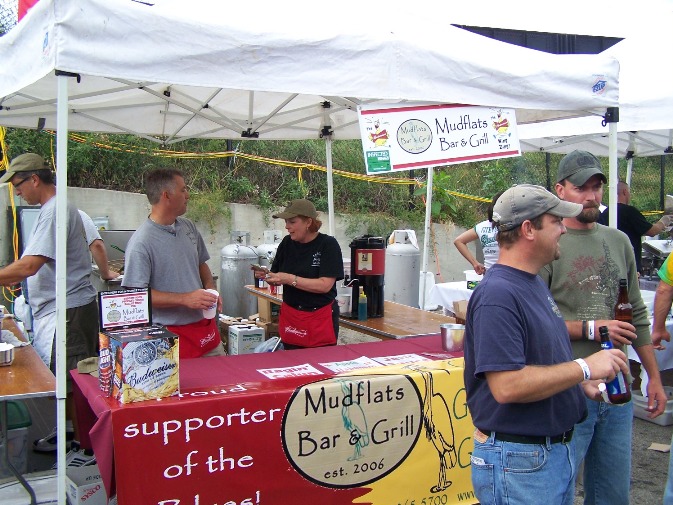 ` Mudflats Bar and Grille of Galena is probably a nice place. I'm a Buffalo Wing purest, I can handle coated wings, baked wings, and even "boneless" wings. Mudflats offered their "apple habenero" wing. Its more of a novelty appetizer to me. To me it falls into the same category of Barleys Smokehouse wings.
---