Sea days
Things to do on Freedom of the seas.
Overall impressions of this Mega ship
---

The Freedom class ship is world famous for having plenty to do on board. We are a late 40's empty nest couple so we didn't have anything to do with the various kids programs. On our first cruise on Voyager, we spent a lot of time in the adult only solarium. We did so again on Freedom and the area is very nice and includes the cantilevered hot tubs. Freedom may be famous, or infamous for the abundance of "chair hogs" and they were plentiful on Freedom. They weren't as bad in the Solarium, but they were obvious and the crew did nothing obvious in this regard. There was an occasional unescorted child trying to get in the solarium pool or hot tubs. The young girl who kept trying to get in the solarium pool bothered me a lot because, in my opinion, she was too young to be unescorted and we never saw an adult with her. The pool and hot tubs in this area were great and at least one was open and hot each night for late night soaks. We spent about 2 hours in one with members of our roll call group the first night.
Our room location 9342 center hump was great for getting around the ship easily. We did end up taking the stairs as much as possible going up two floors to the Windjammer and pool decks or down a few floors to dinner, shows, or the promenade. The elevators are also infamously slow on Freedom, and to some extent it is true. There was stories of kids pressing buttons. We didn't see that on the elevators themselves, but on times we did use the elevators they would stop at floors where nobody was waiting because the people got tired of waiting for them and walked instead.
Freedom is also famous for having the first onboard surfing simulator. We did visit it and watch people from our group on occasion and clearly the Flowrider is a hit among different age groups and among both sexes. I had read about people getting seriously hurt so I decided to wait till the last sea day so not to ruin my vacation. I'm glad I did it, but I didn't and won't do it again It just doesn't appeal to me, but clearly I am in the minority in that regard. Also on the sports deck was the basketball court, rock climbing wall and miniture golf course. I did shoot a few hoops and play mini-golf. I didn't see the rock wall used a lot and I wasn't in shape to try it this year. The mini-golf was perhaps the only place where I saw signs of age on Freedom. The putters that were out were very worn and with torn grips and a few places on the course the carpet was coming up. This was the only place that Freedom showed its age. It is still a great looking ship after 100 voyages.
The promenade is big and very tastfully decorated. On Freedom Sorrento's is on the promenade and made a great place to catch a snack almost all the time. While we felt the service quality was great all over the ship, the Sorrento's staff was a cut above the rest.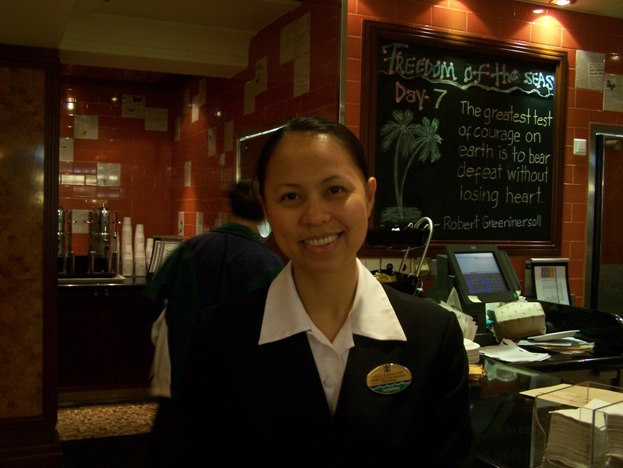 Sorrento's Manager
---

We love Days at Sea and always get an itinerary with at least 2. The first day after leaving with a sea day is perfect. That way you can find your way around the ship, have a leisurely breakfast, get accustomed to the time change, if any, and just enjoy the ship. We are both in our 60s and find many things to enjoy on Freedom. We stroll the decks early morning or at sunset to enjoy the view, stroll just to enjoy the air, lounge in the solarium or just read on our balcony. I am a great fan of sudoku and trivia and a session of each is scheduled each day with sometimes two on sea days. Other little activities I have visited include scrap booking which is ideal for getting the RCL die cuts to use on your pages you create at home. Freedom did not have the dance lessons daily but sometimes they have a professional couple on board who give dance lessons these days and then dance in a specific lounge later in the evening to help you. Bingo and the casino are big at sea attractions, according to my husband who never missed a bingo session although it is the only time all year he plays bingo. It is the excitement and "show" of the bingo crew he likes. These days also gave us time for some great ship pictures of the various areas. Another good picture day is embarkation afternoon when everything is sparkling and ready for the new passenger list. And don't forget your email addresses as you can keep in touch in the online lounge. So much to do, so few hours on sea days.,
---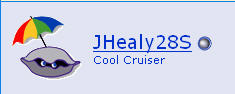 The ship days and ship time were fabulous: we enjoyed our time at the Solarium pool, the hot tubs, shopping, and my husband could not get enough of the Flowrider. He became a "regular" and went there whenever he could. He did the boogie boarding there, not the surfing. We went to most of the shows, Jim went to the ice show with our friends, and he said it was spectacular. I had seen it before. We went to the piano bar several nights and found "Dan the Man" very good…he usually did an interactive show, a lot of fun. We were celebrating our 25th wedding anniversary this trip, and at the piano bar we met a couple, from Ireland, who were also celebrating their 25th. We got married the same exact day, so of course we met for a cocktail on anniversary night, the 30th of April. We also spent some time at the pub with Shane Tapper. That was ok but one night was enough for me. Of special mention was a performance we enjoyed at Olive or Twist. It was a trio of 2 violinists and a piano player called Spring Breeze. We also went to several of the shows and enjoyed them. All in all I think the ship had wonderful entertainment both at the shows as well as at the many bars.
---
There was so much to do on the Freedom! We spent some time relaxing in the Solarium, eating Pizza at Sorento's, and eating a burger at Johnny Rockets. We also spent a lot of time browsing the Royal Promenade. We really loved the shows & loved Richard Spacy as our cruise director. The Love & Marriage game was so funny! We are very proud that one couples was from our own CC group. They participated in the game and gave some of the highlights that we will never forget.

Our cabin was very nice & comfortable as we were treated with a towel animal every night. On our last night we made a towel into a heart shape with a note of thanks along with the envelope with the tip. Our cabin steward was so touched, she cried & gave us a hug. The service on this ship was fantastic!

Our last night was a lot of fun at the Boleros bar with our favorite bar tender, Ramon. We made more new friends & said our good-byes to friends that we made throughout the week. It was difficult to turn in the last night as we knew that we would wake up the next morning in the port of Miami.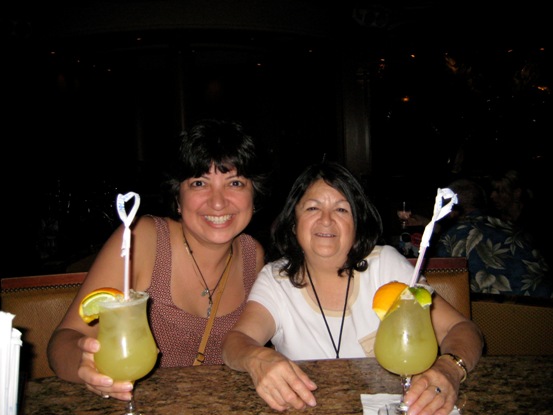 Debbie and Ricki
Back to page 1 of our adventure