Ocho Rios, Jamaica- Second port of call
Here our members will discuss their day at Ocho Rios.
---

Click on images for full size pictures
This was our first trip to Jamaica and we were a bit apprehensive. We booked a White River inner tube ride through RCI. We were docked at Ocho, so that made getting off the ship easy. There was a little confusion in the port area by the company running the excursions. We were put on one bus, then taken off and put on another smaller bus. Things in this area appeared chaotic and had me slightly worried, but they resoloved it. A short bus ride later we turned into a run down neighborhood. I'm sure it was my misgivings about Jamaica, but I couldn't help think we were turning into a secluded area to be mugged.
I learned later we had driven to a point about 3-4 miles above where the White River ends at the Caribbean Sea.
The place where we started was little more than a shack. After a few minutes we walked down a path to the White River. We were given large innertubes with a patchwork fiberglass bottom tied on to the tube. This wasn't quite the special customized flotation devices that RCI implied in their video on the ship's TV, but they did float and the water was warm. The 45-60 minute trip down the river was a mixture of slow relaxed floating and some swift, but quite managable current. There was a group of about 20 of us and 4 locals who watched out for us and rescued us when we got stranded in a quiet pool. It was a pretty pleasant trip and a little bit of a fast moving adventure at times. At times we were under a tropical canopy and other times through local neighborhoods including a cock fighting arena and car wash.
The trip ended at the ocean on one of the nicer beaches we had this trip. We were greeted with rum drinks and 2 hours at the beach before our bus ride back to the ship. We had a good time and the beach was one of the nicer ones on our trip. (Pictures to follow when I get the water proof camera developed.)
---
---

We didn't have any excursions planned for here, so we went shopping right around the corner from the ship. On the way there the people were lined up and asking if you need a cab or how they could give you the best tour of the island. They didn't take NO for and answer they just keep walking with you and asking over and over again. Then we went to the beach and tryed to relax for awhile, but that didn't really happen. The guys would come up the women on the beach and start talking to them and telling them how much they loved them and wanted them. The beach was nice and the water was clear but I would never go back to Jamaica again.
---

We booked the Zip line tour here. Very action packed drive up to the zip line in the mountains. Our tour bus driver was very funny and kept us entertained. This was really fun to do, the guides are very helpful and funny. They relieved my tension as this was a fear of mine that I wanted to face.
---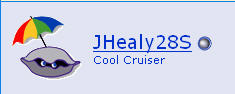 Prior to cruise time, we had made arrangements with a private tour operator, Winston Tours to take us around. Winston was at the pier waiting for us. Our first stop was the Dunn's River Falls. We were actually the first people in the park that day. There were six of us all together. Four of us did climb the falls from bottom to top. I surprised myself, and am glad that I did it. It was tough in some spots; we did not have a guide with us. All in all, both challenging and fun. After the falls, we went to the White River for tubing. The tour operator was" Calypso Tubing" They called it a lazy river, however in some spots I would not call it lazy! My tube "popped" en route after striking a piece of bamboo. I hung onto a branch as everyone else in the group floated by. Luckily, the guide was right there, offered me his tube which was a little tricky getting into from the water, while flowing, and over my head at that particular point. But, with the guides help, we were successful. Steve, my Jamaican hero!! That was a fun trip overall. They stopped at a point along the river where one could jump off a tree limb into water if one chose, (I did not!). Also, there was digital photography and other souvenirs available if one desired them. After the Calypso adventure, we went to Reggae Beach. This was quite beautiful. It was rocky sand. The snorkeling was ok there. There were no chairs, which was fine with us as we hadn't planned to stay terribly long. After that, Winston took us back to the ship. A note about Winston: he was very polite, accommodating, and kept us and our valuables safe. The only thing negative I could say was that he did have to ask for directions when we went to the tubing….I felt he could have done his homework a bit better since we had this itinerary arranged with him before we got there via several e-mails. That being said, I would use him again without hesitation. This by the way was how we spent our 25th wedding anniversary!
---

We have been to Dunns Falls in Jamaica. Our friends wanted to see it but did not want to climb the Falls and then do some shopping, so we decided to take a taxi. What a surprise! They have totally cleaned up Ocho Rios! They have a gated taxi area. We found a taxi went to the falls and spent a couple of hours enjoying the scenery. I love standing in the sea with one foot in warm sea water and the other foot in cold Falls water. We went back to the dock and decided to walk to the shopping places suggested by RCCL with our coupon book in hand. The shopping center next to Magaritaville was secure, clean and pleasant with restrooms available. We looked around then decided to go to the other shops across the road and down to the right, also recommended by RCCL. DON"T DO THIS!!! After a block I mentioned to our group that I didn't feel safe. They tried to reassure me that it must be or the RCCL wouldn't recommend it. After block two, a lot of people yelling at us, and being harassed by a drunk the group agreed with me and at the end of block three decided to return to the ship. We laughed when the drunk cursed my husband saying I hope you don't fall in a hole! We laughed harder when my husband fell in a hole on the way back to the ship. At least the guy didn't say, I hope your ship doesn't sink!!! Back at the ship it was time for a shower and a rest!
---
Ya Mon! Jamaica was a lot of fun as we started out by Calyspo Rafting on the White River. The guide had us laughing the entire time as we sang to us as we traveled down the river. The river ends at the beach were we had a rum drink waiting for us. After a couple of hours swimming & relaxing on the beach, we dropped off the eight passengers at the ship so they could eat at the Windjammer. Ricky & I stayed back with the tour guides and were driven to a local outdoor restaurant that served Jerk Chicken. The food had a lot of flavor & very spicy hot. The more we sweated, the more Red Strip beer we drank. This also gave us time to get more acquainted with our tour guides. Then we were driven to a local store were we purchased Jamaican spices to make Jerk Chicken, Blue mountain coffee, and Rum.
---
Back to page 1 of our adventure