embarkation
em·bar·ka·tion Pronunciation[em-bahr-key-shuhn] –noun the act, process, or an instance of embarking.

em·bark (ìm-bärk') v. em·barked, em·bark·ing, em·barks

To cause to board a vessel or aircraft: stopped to embark passengers.

To go aboard a vessel or aircraft, as at the start of a journey. To set out on a venture; commence: embark on a world tour.

Embarkation day is the day all cruisers wait for, its the start of the actual vacation. Our cruise leaves the Port of Miami, Florida. Some people fly into nearby Fort Lauderdale and many others fly into Miami. The rest will drive into the Miami area. A significant number will arrive the day before the cruise and again the rest will arrive on Embarkation day. Here are our stories.
---

Embarkation day turned out to be one of our best ever. Our American flight left Columbus, Ohio on time around 7:30 and we arrived at MIA at 9:50am. We made the 10 minute walk to the baggage claim to find that our 3 bags were the first out of the chute. Quickly, we were in the taxi on our way to the ship. This was our third cruise out of Miami. The taxi always takes the same route and each time I look forward to making the turn by American Airlines Arena and as you go up the bridge you can see the ships for the first time. However, with Freedom docked at the first berth you can see her from the Arena!
After paying $24 for the taxi, up $7 from last year, we were at the pier. With gas prices way up, I expected to pay more. We were quickly directed to the proper entrance and within 10 minutes we were checked in and had our Seapass cards. We were then given a card that says GROUP4 and send to a holding area. It was there I met the first of many cruise critic members. Cruising Granny introduced her self. From her we learned that the crew was still trying to locate 2 passengers from the previous cruise before we could board. In the next few minutes we met Peg (Jhealy) and Prudy (Prudon) .
Things continued to go well and we were on the ship around 11:50am. We went straight to Chops and made reservations for Friday night (our anniversary) There was no line for reservations and from what I heard reservations for both Chops and Portofino's were readily available all week.
From there we did our usual Windjammer lunch. We managed to find a seat easily at this point. The place was bright and clean with an attentive staff so drinks were easy to come by. We did the basic fare at lunch and later checked out Jade and the Carving station. The food was what you expect from Windjammer and the staff was excellent.
After exploring the pool deck, we went to the dining room. We found our table #325 to be a table for 4 at the front center of deck 3. Later at sail away, others told us the numbers weren't on the tables when they checked. By this time we were able to get to our rooms. We were in 9342, which is a center hump D1 on the starboard side.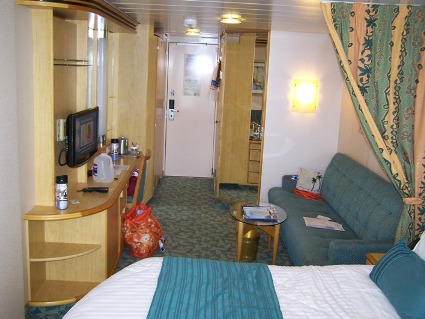 Our previous balcony was an E1 on Voyager, so I expected this to be bigger. Maybe my memory has faded from 2 years ago, but this seemed about the same size, but still a great cabin. Our bags arrived before sail away, so we did some unpacking before heading to the Muster. It wasn't as hot as previous muster drills and it went quick so we were off to meet some of our roll call friends at the pool bar . We were on the upper deck of the pool bar area. Our first drinks were Miami Vice drinks. This helped us get the trip off to a good start.
---

We flew out the day before the cruise just in case anything went wrong. I will never forget how I felt when we went over the bridge and I saw the Freedom for the first time. It was like being a kid again. I had butterflies in my stomach, I guess from all the excitement.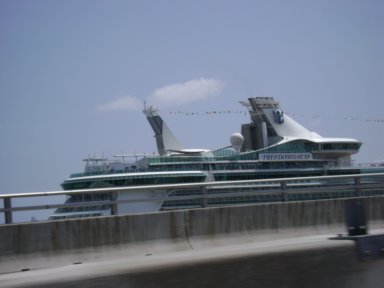 We got to the port around 11:30 am it wasn't really busy yet. After giving our luggage to the porter we went inside and found that the lines weren't long at all. We then got our sea pass card and got onboard about 12:15pm. Then we walked around and took some pictures before it got too busy, found our table in the dining room. Then we made our reservation at Chops, before going in the Windjammer for lunch, At 1:00pm we went to find our room and see if we had any luggage yet. The muster drill wasn't as bad as I thought it was going to be, it didn't take long at all. The weather was nice and it wasn't too hot. After the drill we went back to the room to find that some of our luggage had arrived. Of course it wasn't my luggage it didn't come until almost time for dinner. Then we went up to the 12th deck and got ourself a drink and waited for sail away.
---

We chose to fly out of Detroit on the morning of the cruise. We did not anticipate bad weather since it was Spring and Northwest offered an early flight to Ft. Lauderdale which avoided the massive Miami airport. Ft. Lauderdale is a much smaller venue and it is only 40 minutes from the port. RCL offers airport to pier transfers from here by bus if you sign up when you book your cruise. Their representatives meet you right in the baggage claim area. With American's missing bags rating quite high, this was a great opportunity for us to arrive with all our "cruise wear".
---

We decided to fly into Orlando instead of the usual airports others were choosing. We got a great deal on Price line for $158 round trip for each of us and the rental car for only $105. We flew into Orlando the day before and headed out on our adventure. We had hotel reservations for Port St. Lucie, which is about 2 hours from Miami. This is a lovely city and I recommend the drive, very nice a leisure drive. Hey we were on vacation. We had plenty of time and the ship doesn't leave until 5pm. We found our way easily as we had planned the drive on our laptop. The drive over the bridge was amazing with all the ships there and the Freedom being the biggest and most beautiful of all. We had decided to use the port parking and leave the car there for the 7 days. This was going to cost us $140 for the week, but we found that this was the best deal and most conveint for us. It was around 1:30 and we spent about 30 minutes going through security and check in. As we were getting on later then most, we were able to go right to our cabin as it was ready for us. We had cabin 8640 on the hump, by the elevators and stairs. We only heard noise once the whole trip when a group decided to stop and discuss their evening in front of our door.
---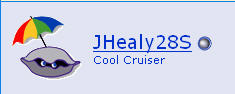 I was traveling with my husband, Jim. This was our 9th Royal Caribbean cruise. We live in CT, flew out of White Plains Airport the day before the cruise. We flew into Ft. Lauderdale as we preferred the time of the flights, got better airfare, and prefer to use White Plains Airport whenever possible due to the proximity to our home. We flew Air Tran. The flight down was uneventful: smooth, and on time. We stayed at a Super Eight Motel in Dania. We have stayed there before. It offers a basic room, clean enough, friendly staff. We had dinner that night at a restaurant we have eaten at before as well, called Lorenzo's. This restaurant was within walking distance from the Super 8. Both the restaurant and the motel are located on South Federal Highway. Super Eight offers complementary shuttle service from the airport to the motel, and from to the motel to the Ft. Lauderdale port (or back to the airport.). They also have a continental breakfast. We took the shuttle on Sunday morning to the airport, as cab rates from where we were to the Miami port were approximately $70.00per couple. By going (by complementary shuttle) to the airport, we were able to quickly pick up a shuttle to the Miami port for $18.00 per person. The shuttle was called "Go Shuttle." It was about 15 minutes to the airport, and about 35 minutes to the port. We were ready to start our cruise vacation. We were at the port by around 10:45 a.m. We quickly entered the lobby, went through security, checked in, received our Day One compass and maps, and were sent to an area to wait to board. We did have priority boarding as we were platinum members. We were able to get on board by about 11:30. . We had been on this ship before, so were somewhat familiar with the layout. We went to pick up a soda card as well as a wine package, and went to the dining room to check the location of our table. We then went to the Windjammer and enjoyed our first meal on this cruise. This is where I was first introduced to Bill and his lovely wife Gina, OP of our thread, who I immediately recognized from the pictures Bill had posted.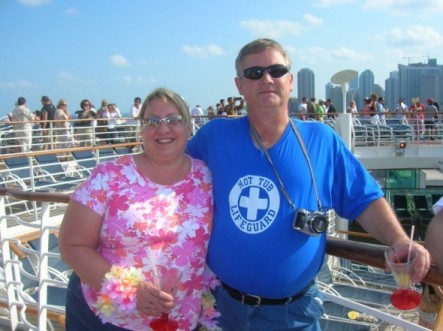 Bill and Gina (Thanks Peg)

Later that day, after our muster, we were united with many of our cruise critic friends at the pool bar wearing our Leigh's, as planned. What fun it was putting faces with the names we had come to know. I must say that I really enjoyed that. Some of us posted for well over a year!
---
Embarkation day was very easy and organized! We arrived the day before & stayed overnight at the Wyndham arranged by RCCL. The next morning, the lobby was full of excited passengers ready to board the Freedom. The buses were organized & rapidly transported us to the port. Upon boarding the Freedom, we made our reservations at the specialty restaurants & spa. Then briefly checked out our cabin & ship. We even ordered a Mojito that was highly recommended from the Boleros bar. You could feel the excitement during the sail away party!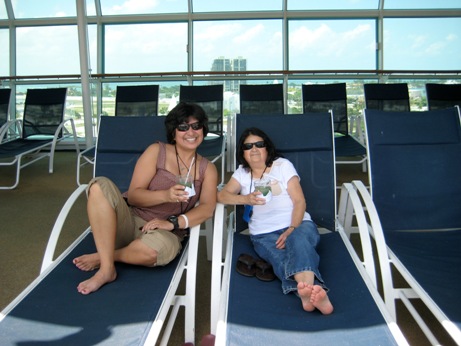 ---
Back to page 1 of our adventure